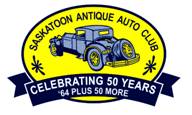 Welcome to the 50th Anniversary page.
Dates
Thursday August 21st to Sunday August 24th, 2014
THANK YOU TO EVERYBODY WHO TOOK TIME OUT OF THEIR BUSY SCHEDULES TO JOIN US FOR A FUN FILLED THREE DAYS.
FROM ALL ACCOUNTS EVERYBODY ENJOYED THEMSELVES, THE EVENTS WERE GREAT, IT WAS VERY WELL ORGANIZED (FANTASTIC ORGANIZING COMMITTEE!!) AND THE WEATHER (MOSTLY) COOPERATED.
FROM OUR BREAKFAST AT DAKOTA DUNES TO OUR TRIP TO OUTLOOK AND THEIR ECLECTIC MUSEUM, THE TRANS CANADA TRAIL WITH, UNFORTUNATELY, ITS CLOSED BRIDGE, THE BERRY BARN AND AN OPPORTUNITY TO "DRIVE" THE OVAL AT THE AUTO CLEARING RACEWAY FRIDAY WAS INCREDIBLY MEMORABLE.
SATURDAY HAD SEVERAL FANTASTIC TOURS - WDM CURATORIAL CENTRE, JACK WUR'S, HITACHI, PLEASUREWAY, RICHARD WASYLYNIUK'S AND A RIVER BOAT CRUISE.
SATURDAY NIGHT EVERYONE ENJOYED A TASTY BANQUET PUT ON BY THE WDM AND A DANCE FOLLOWING THE DINNER. THE HIGHLIGHT OF THE EVENING WAS THE UNVEILING OF OUR DERBY CAR PROJECT. THE UNVEILING WAS THE CULMINATION OF 2 YEARS WORTH OF HARD WORK BY A DEDICATED GROUP OF INCREDIBLE MEMBERS WHO PUT BLOOD, SWEAT, AND PROBABLY A LITTLE SWEARING, INTO MAKING THIS PROJECT THE BEST IT COULD BE. THIS PROJECT ALSO SHOWED THE DEPTH OF KNOWLEGE AND SKILL THAT OUR CLUB POSSESSES.
SUNDAY WAS A "LITTLE WET" BUT MANY CARS TURNED OUT FOR THE CRUISE WEEKEND SHOW & SHINE AND THE PUBLIC UNVEILING OF OUR DERBY CAR.
THANKS AGAIN FOR MAKING THIS A GREAT WEEKEND!!!
Provincial Tour/50th Anniv. Photos (click here)
(All photos displayed for anniversary taken by Owen Mitchell)