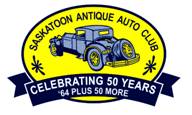 NOTE TO MEMBERS:
Next Club Function
Monthly Meeting: Tuesday March 28, 2023
SAAC 2023 Swap Meet - Saturday April 8, 2023
(See Events Page for Details for all events)
The Saskatoon Antique Auto Club meets the 4th Tuesday of every month except November(3rd Tuesday), December and January (AGM - various dates) at the Western Development Museum.
The club is open to all car enthusiasts of domestic and foreign cars and trucks of all vintages.
2023 Executive
President - Lloyd Minion
Vice President - Al Willms
Secretary - Bob Schmidt
Treasurer - Dave Brock
Past President - Marty Nicholas
1 yr Directors: Norm Mowles, John Boehmer
2 yr Directors: Tim Roden, Jerry Lupol

Group photo from our Mini Cruise July 6, 2014
History of the Saskatoon Antique Auto Club
by Gene Searcy - 1999 (Updated 2019)

The organizational meeting of the Saskatoon Antique Auto Club (SAAC) was held on November 4, 1964 in the boardroom of the Western Development Museum (WDM). Approximately 30 people were in attendance from which the following officers were elected: President – Jack Braithwaite, Vice-President – Jim Allen, Secretary-Treasurer – Paul Matlock, Directors – Lloyd McLeod, W. Campbell, Roy Sisetki, W.J. Rea, Bill Horning, Gordon Wilson, Dan Meyers and Gordon Leach. The annual membership fee was set at $5.00.


Within two months of the organizational meeting, the SAAC was offered a trophy by the Draggin's Rod and Custom club for competition and space for displaying members' cars at their annual show. The club has maintained a continuous presence in this show ever since. In its formative years, the SAAC was also an active participant in Pion-Era parades. A major undertaking as a Canadian Centennial project was the restoration of a 1912 Rambler car which remains on display at the WDM.


On August 21, 1967, at a joint meeting of the SAAC and Saskatoon Muzzle Loaders Club executive committees, a motion was carried that both clubs would co-sponsor a "Centennial Antique Auto and Gun Show" on October 7-9, 1967. The show was repeated in 1968 but was expanded to include other hobbies and was named the "Saskatoon Hobby Show." The show went on for many years but after running its course was shut down in 2007.


Other significant events in 1968 included the establishment of a club library located in the WDM, the design of a club decal and crest, and the purchase of a car trailer for rent by members. Motions to allocate expenditures for frequent repairs to the trailer resulted in spirited discussions at general meetings until it was sold in 1982. In 1968, meeting dates were set for the fourth Tuesday of each month, a tradition which is still in existence.


In 1984, the twentieth anniversary of the SAAC, a Founders' Banquet was held at which several of the original executive members were recognized for their contributions to the establishment of the SAAC. A similar less formal function was held in 1994 to honour those members who had contributed significantly to the club during its first decades. In 2014 the club celebrated its 50th anniversary.


Over the years, the SAAC has developed a number of member events which now occur annually, and the emphasis has always been on the social aspect. A banquet, at which there is election of officers, is held in January, tours to members' garages to see projects or tours to automotive garages takes place in the spring and summer, all of which are usually followed by snacks and refreshments. We also enjoy mini tours to various destinations, with the opportunity for all of us to take our cars on the road and do a little showing off, and in the fall the annual corn roast and barbeque takes place. The club also receives many invitations to show our cars and, when possible, members are happy to do this with mini show & shines taking place at seniors' residences and care homes, the annual Cruise Weekend downtown, the Draggin's Car Show and many others.


Our club has always given back to the community. The SAAC has contributed to many charities over the years including Big Brothers, Big Sisters, Canadian National Institute for the Blind (CNIB) and currently contributes bursaries yearly to students in the Saskatchewan Polytechnic automotive area. Until 2013 the club volunteered to perform a "ditch clean" on a stretch of Highway 41, just north of the intersection of Highway 5.

As noted above, SAAC was founded with encouragement and support from the management of the Western Development Museum. Throughout its history, the club has held most monthly meetings at the museum where the club library is housed. In 1986, SAAC entered into an agreement with WDM in which all SAAC members became museum members and club dues were increased to include the additional membership fee. During the period 1991-1993, SAAC contributed funds to the Boomtown volunteers of the WDM, who then restored a 1928 Ford model A Phaeton which remains on permanent display in the museum. Over the years the club has also restored several cars for the WDM including a 1941 Ford RCAF staff car, a 1918 McLaughlin Buick and, as a 50th anniversary project, restored a 1926 Derby, which was a car assembled in Saskatoon, and is the only know survivor in existence. Membership in the SAAC has always been high with unusually strong attendance at monthly meetings. Close ties have been maintained with the Scattered Spokes of Lanigan and Dusty Wheels Antique Auto Club of Rosetown as significant numbers of members in these clubs hold membership in SAAC. The Club has avoided some of the pitfalls which have befallen a wide variety of similar organizations because of controversial issues by having an executive committee review major topics and present recommendations to general meetings. This results in shorter business meetings with more time for post-meeting activities and fellowship. Maintenance of these traditions by the SAAC ensures a stable membership dedicated to the restoration and preservation of vehicles.